Yesterday's TDWI webinar was focused on data-centric security. The tag team was Fern Halper, Research Director for Advanced Analytics, TDWI, and Jay Irwin, Director of InfoSec, Teradata. It's always nice when the two halves of a sponsored presentation fit well. For that reason and for the content, this was a nice presentation.
Everyone in the industry knows that data breeches happen, and we all talk about the issue. I've seen a few articles and lists about the number of successful attacks, but Fern Halper pointed us to a nice graphic from Information is Beautiful. She also pointed to another study that showed that "In 2013, 33% of respondents said their company had a data breach. In 2014 the percentage has increased to 43%." It's always a race between black hats and white hats, so it's important to minimize not only your chance of getting hacked, but also to minimize the importance and usefulness of data gained from successful hacks.
Ms. Halper than discussed four types of data security:
Perimeter security: monitoring network access for intrusion detection.
Authorization and Access: Password and role based data protections.
Encryption: Using cryptography to encode data.
Logging and monitoring: Analyzing access patterns.
Each part is necessary but insufficient. Authorization is only as strong as people's passwords. If it's easy to steal the encryption key, encryption doesn't matter. A robust security system leverages all the types.
One important note: Later in her presentation and throughout Jay Irwin's section, encryption didn't exist alone but alongside tokenization. The later is a different security technology, where characters, words, numbers and fields are replaced with other symbols, or tokens, that still look as if they're real and can still be used in analysis. Mr. Irwin pointed out he prefers "data protection" as a rubric that covers all the techniques of data level security.
Along with that clarification, Jay Irwin also described the multiple layers as "Defense in Depth," a concentric ring of security to ensure there's no single point of failure. Jay also provided my favorite slide of the presentation. While it's too wordy, it's a pretty clear view of Teradata's top-down approach.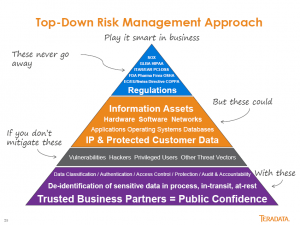 An organization must start with understanding the rules and regulations that drive data security. Only then can you identify the data assets that need special attention in order to protect them from hackers.
Jay has a lot more to say in a lot more detail, and I won't cover it all. While I blog about webinars so you don't have to watch, this one's an exception. If you want to get a good, broad view of core data security issues, take some time and listen to the webinar.