Last Friday's BBBT presentation was by Stefan Schmitz, VP Product Management, MicroStrategy. This will be a short post because a lot of the presentation was NDA. Look to MicroStrategy World in January for information on the things discussed.
The Company
The primary purpose of the public portion of the presentation was to discuss the reorganization and refocus of MicroStrategy. Stefan admitted that MicroStrategy has always been weak on marketing and that in recent years Michael Saylor has been focused on other issues. Mr. Schmitz says those things are changing, Saylor is back and they're focusing on getting their message out. In case you're wondering why a company that claims to be pushing marketing showed up with only a product management guy, they'd planned on also having a product marketing person but life intervened. Stefan's message clearly had strong marketing input and preparation so I believe the focused message.
When we discussed the current market, Paul te Braak, another BBBT member, asked a specific question about where MicroStrategy saw self-service analytics. Stefan responded, accurately, it was self-service for analysts only and systems are too simple and miss real data access.
One key point was the company's view of the market as shown below.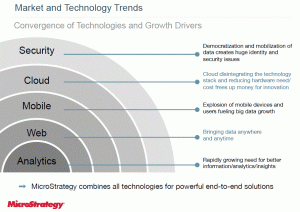 The problem I have is that data governance isn't there. It's in some of the lower level details presented later, but that's not strong enough. The blend of user empowerment and corporate governance requirements won't be met until the later is perceived as a top criticality by technical folks. MicroStrategy is a company coming from the early days of enterprise business intelligence and I'd expect them to emphasize data governance the way a few other recent presenters have done, and the lack of that priority is worrisome.
The Technology
On the technology side, there were two key issues mentioned in the open session.
The first was a simplification of the product line. As Mr. Schmitz pointed out, they had 21 different products and that caused confusion in the market, slowing sales cycles and creating other problems. MicroStrategy has simplified its product structure to four products: The server, the architect for developing reports and dashboards, and separate products for Web and mobile delivery.
The second is an AWS cloud implementation along with data warehousing partners in order to provide those products as part of a scalable and complete package. This is aimed at helping the company move downstream to address departmental, divisional and smaller company needs better than their history of mainstream IT sales has allowed.
This is still evolving and the company can give more information, as you'd expect.
More was mentioned but, again, it was under NDA.
Summary
MicroStrategy is an established BI vendor, one of the older group of companies and, unlike Cognos and Business Objects, still standing on its own. The management knows that the newer vendors have started with smaller installations and are moving towards enterprise accounts. It is making changes in order to go the other direction. The company wants to expand from the core enterprise space into the newer and more agile areas of BI. Their plans seem strong, we'll have to watch how they implement those plans.