The latest presentation to the BBBT was by Kerry Gilger, President and Founder of VisualCue™ Technologies. While I find most of the presentations interesting, this was real eye-opener.
Let's start with a definition of operational intelligence  (OI): Tools and procedures to better understand ongoing business operations. It is a subset of BI focused on ongoing operations in manufacturing, call centers, logistics and other physical operations where the goal is not just to understand the high level success of processes but to better understand, track and correct individual instantiations of the process.
A spreadsheet with a row of data for each instantiation is a cumbersome way to quickly scan for the status of individual issues. The following image is an example of VisualCue's solution: A mosaic of tiles that show different KPIs of the call center process, with a tile per operator, color coded for quick understanding of the KPIs.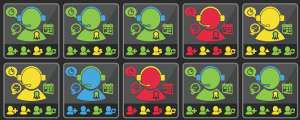 The KPIs include items such as call times, number of calls and sales. The team understands each element of the tile and a review shows the status of each operator. Management can quickly drill down into a tile to see specifics and take corrective actions.
The mosaic is a quick way to review all the instantiations of a given process, a new and exciting visualization method in the industry. However, they are a startup and there are issues to watch as they grow.
They have worked closely with each customer to create tiles that meet needs. They are working to make it easier to replicate industry knowledge to help new customers start faster and less expensively.
The product has also moved from full on-site code to a SaaS model to provide shared infrastructure, knowledge and more in the Cloud.
VisualCue understands operational intelligence is part of the BI space, and has begun to work with standard BI vendors to provide integration with other elements that make up a robust dashboard including the mosaic and other informational elements, that's rightfully in its infancy given the company's evolutionary stage. If they keep building and expanding the relationships there's no problem.
However, the thing that must change to make it a full-blown system is really how they access the data. It's understandable that a startup expects a customer to figure out all its own data access issues and provide a single source database to drive the mosaics, they're going to have to work more closely with ETL and other vendors to provide a more open access methodology as they grow and a more dynamic, open data definition and access model than "give us a lump of data and we'll work with it."
Given where the company is right now, those caveats are more foibles than anything else. They have the time to build out the system and their time has, correctly, been spent in creating the robust visualization paradigm they demonstrated.
If Kerry Gilger and the rest of his team are able to execute the vision he's shown, VisualCue will add a major advancement in the ability for business management to quickly understand operations in a way that can provide instant feedback that can improve performance.