Let's cut to the chase, this is another company with a very good product and no idea how to message. Unless they quickly figure out and communicate the right message, they'll need to get ready for acquisition as an exit strategy.
Jinfonet is a company founded, it seems, to clone Crystal Reports in Java. Hence the awkward name. JReport, their product, is full featured and we'll get to that, but the legacy name using report will leave them behind if that remains their focus.
The presentation was primarily by Dean Yao, Director of Marketing, with demo support brought by the able Leo Zhao, Senior Systems Consultant. However, the presentation indicated the message problem.
Reports? What Reports?
The name of the product is JReports, but at no time in the three hours did a report make an appearance. They showed two different analyst charts, Nucleus Research and EMA, of the business intelligence (BI) industry to show where they were placed. BI. Yet when asked about competition, Dean Yao repeatedly mentioned they didn't compete against BI vendors but focused on reports.
Their own presentation begs to differ: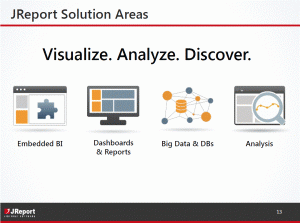 Notice that reports are a secondary feature of one focus.
What's also good and bad is that Leo Zhao's demonstrations showed a very richly featured product that does compete against the other vendors. The only major hole wasn't in functionality, it's that the rich set of visualizations weren't as pretty as most of the competition. That is in part because they are self-funded with more limited resources and partly because they're great techies who haven't prioritized visualizations as they should.
OEM or Direct?
OEM, in JInfonet's business model, doesn't only mean the product embedded in third party applications. Mr. Yao discussed how JReport is also regularly embedded in departmental IT applications. That is different than when companies use JReport as a standalone product.
Dean talked about how 30% of their business in recent years was direct, with the rest being OEM. At the same time, he mentioned that last year was around 50/50. That's not a problem. What is an issue is that they don't know why it was. Did sales focus on direct? Was one major direct client a large revenue outlier which skewed the results? They don't seem to know.
That matters because the OEM and direct models are very different. With OEM, you let the other company deal with business messages. All you're doing is presenting to them a good technical story and cost point compared do simpler products, a tiny segment of competition or doing nothing and losing out to their competitors.
Enterprise sales, on the other hand, require a focus on the end user, the folks using the products and the business issues they have. That is what's missing from the presentation, their web site and the few pieces of collateral I reviewed.
One thing should also be said about the OEM to departments model. The cloud is changing the build v buy balance for many departments for the applications in which JReport is embedded, so I'm not sure how much longer this model will be of significant revenue.
Mr. Yao said they don't do enterprise sales, but just sell to SMB and enterprise departments, so that means they're not really competing against other BI vendors. A lot of the analysts on the call quickly jumped on that, pointed out that even one of the largest companies openly talks about its strategy of land and expand. "Just land" is not a long term strategy.
What's that mean?
Right now the enterprise market is very fragmented, so there's a space for a small company, but that won't last long. Crystal Reports had a long run based on the technologies of the day, but it no longer is independent. Today, things are changing far more rapidly. The cloud is allowing BI firms to address small to global companies with similar products and the major players (and most smaller ones) are focused on that full business market.
Given the current product, JInfonet can go one of two ways. They can decide to completely focus on OEM, keep a technical message and just sell enterprise as it happens.
The other option, one I openly prefer, is that they realize that they have a very good product that does compete in the direct model and they need to focus more messaging. They can still provide to OEM, but that's easier – it's a subset of the full featured message.
The solution, though, resides in the folks who weren't in Boulder: The founders. The company has been self-funded since 1998 and the founders are used to their control. I've seen companies fail because owners were unwilling to see that times have changed. They mistakenly think that pivoting markets says they did something wrong in the past, so they're hesitant. It doesn't say that, but only that the people have enough confidence to adapt to a new market with the same energy and intellect with which they addressed the original market.
JInfonet has great potential, but it will require a strong rethink and clarification of who they are in order to convert that to kinetic. From what I've seen of the product and two people, I hope they succeed.