Today's TDWI webinar was a presentation by Philip Russom, Research Director, on "Evolving Data Warehouse Architectures in the Age of Big Data Analytics." It was based on his just released research paper of the same name. Overall, it was a good overview of where their market survey shows the market, but I have a nit.

One of the best points Mr. Russom made was during his discussion of responses to "What technical issues or practices are driving change in your DW architecture. The top response, with 57%, was Advanced Analytics. Phillip pointed out to everyone that's about as good a proof as you get in business driving technology. Advanced analytics is a business need and that pushing the technical decision. Too many people get too wrapped up in technology to realize it exists to solve problems.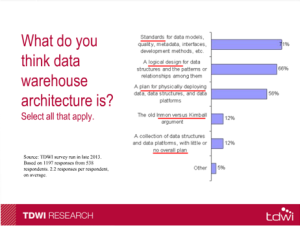 Another key point was made as to the evolving nature of the definition of data warehousing. Twenty years ago, it was about creating the repository for combining and accessing the data. That is now definition number three. The top two responses show a higher level business process and strategy in place than "just get it!"Where I have a problem with the presentation is when Mr. Russom stated that analytics are different than reporting. That's a technical view and not a business one. His talk contained the reality that first we had to get the data, now we can move on to more in depth analysis, but he still thinks they're very different. It's as if there's a wall between basic "what's the data" and "finding out new things," concepts he said don't overlap. Let's look at the current state of BI. A "report" might start with a standard layout of sales by territory. However, the Sales EVP might wish to wander the data, drilling down and slicing & dicing to understand things better by industry in territory, cities within and other metrics across territories. That combines what he defines as separate reporting and data discovery.
Certainly, the basic row-based reporting can switch to columnar structures for better analytics, but that's techie. The business user sees a simple continuum. Like most other areas where technology advances (pretty much all of life…), business software solves a problem and then allows people to see past that one to the next. That successor problem doesn't have to be completely different, and in the case of reporting and analytics, it's not.
The final takeaway I received from his webinar helped support that concept even if his earlier words didn't. He talked about the Multi-Platform Data Warehouse Environment, the fact that DW's aren't going anywhere, they're only being incorporated into a wider ecosystem of data technologies in order to continue to improve the understanding and decision making capabilities of business managers.
Other than the disagreement I have with his view of reporting and analytics, I heard a good presentation and suggest people check out the full report.