Friday's EXASOL presentation to the BBBT brought a strong feeling of déjà vu. I've already blogged about the Tuesday Actian presentation and, to be honest, there were technical differences but I came to the same conclusion about the business model. But first, a thanks to Microsoft for the autocorrect feature. Otherwise typing EXASOL in all caps each time would have been bothersome.
The EXASOL presenters were Aaron Auld (@AaronAuldDE), CEO, and Kevin Cox (@KJCox), Director Sales and Marketing.
I mentioned technical differences. First, and foremost, they didn't start with hardware but with an initial algorithm for massively parallel processing (MPP). They figured it was a great way to speed up database performance and stuck with columnar oriented relational technology. That's allowed them to work on multi-terabyte systems with fast performance.
They have published some great TPC-H benchmark numbers, often being two orders of magnitude better than the competitors. While admitting that TPC stats are questionable since they've been defined by the big vendors to benefit their performance, often don't reflect real life queries and often don't use typical hardware, the numbers were still impressive. In addition, it was a smart business move as a small company blowing away the big vendors' benchmarks helps elevate visibility and get them into doors.
However, let's look back at Actian. They also talked about TPC, but they used the TPC-DS benchmark. How do you compare? Well, you can't.
One other TPC factoid is, just like their competitor, there's no clear information on true multi-user performance in today's mobile age. No large numbers of connected clients was mentioned.
So results are great, but how do they fight the Hadoop bandwagon? They understand that open source is cheaper from a license standpoint, but also point out their performance saves in direct comparison when you total all costs for an implementation. People forget that while hardware prices have dropped, servers aren't free.
Unfortunately, from a business model, it looks like they're making the typical startup mistake of focusing on their product rather than business needs. They understand that ROI matters, but it seems to be too far down the list in their corporate messaging.
Another major advantage they have in common with the previous presenters is the sticking with SQL involves an easier build of ecosystem to include the existing vendors from ETL through visualization. However, they seem to be a bit further behind the curve in building those partnerships. While they have a strong strategic understanding of that, they need to bubble it up the priority list.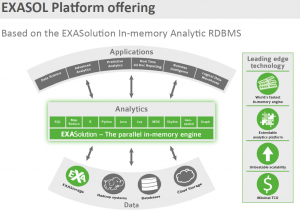 One critical business success they have is their inclusion in the Dell Founders Club 50. That means advice and cooperation from Dell to help improve their performance and expand their presence. For a small company to have access not only to Dell at the technical level but also to bring customers to Dell Solution Centers for demonstrations is a great thing.
While they have been focused on MPP and large customers, the industry move to the Cloud also means they are looking at smaller licensing including a potential one-node free trial.
However, as mentioned in the lead, they seem to have the same business model issue as their competitors: They're focused on the bleeding edge market who think the main message is performance. While they know there are other aspects to the buying decision, they went back, again and again, to performance. They have the whole picture in mind, but they're not yet thinking of the mass market.
Organizations such as TDWI, Gartner and Forrester have all reported the high percentage of organizations that are considering big data and how to get a handle on the vast volume of information coming from heterogeneous sources. There's clearly demand building up behind the dam. The problem seems to be they're trying, as major IT organizations always do, to understand how best to integrate new technologies and capabilities with as little pain as possible. Meanwhile, the vendors seem to still be focused on the early adopters with their messaging. That leaves dollars on the table and slows adoption of new technology.
Summary
EXASOL seems to have a strongly performing and highly scalable database technology to work with large data sets. Yet, like many companies in the business intelligence space it comes back to audience. Are they still aiming at early adopters or will they focus on the mass market?
Have BI and big data advanced to the point where people need to think about the chasm and how to better address business needs not just technical issues. I think so, and I hope they adjust their business focus.
The company seems to have great potential, but will they turn that into reality? As the great Yogi Berra said, "It's like deja vu all over again."